KMHI Spreads The Word of MH in Kentucky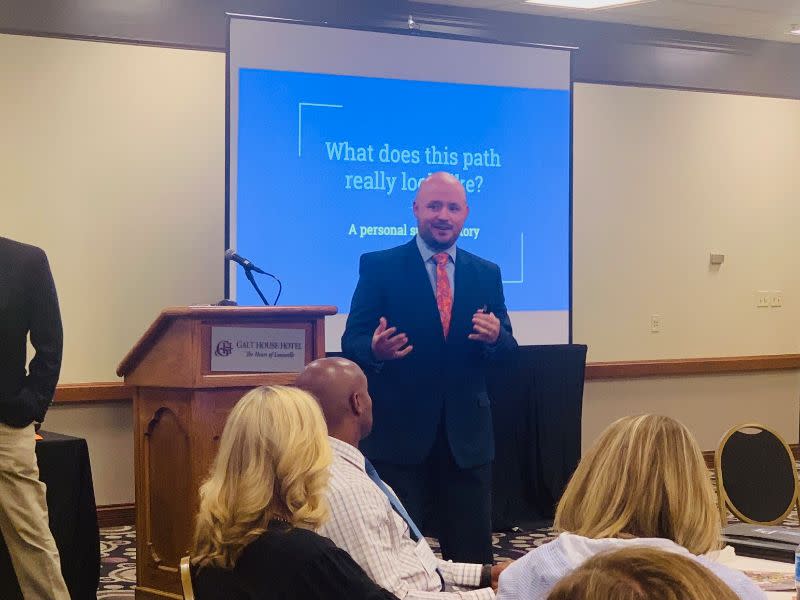 Spreading The Word of MH in Kentucky

August has proven to be a very busy month for KMHI. Betty Whittaker, CAE, Executive Director of KMHI and Logan Hanes, Director of Education and Industry Advancement have been from one end of the state to the other speaking on a wide range of topics relative to manufactured housing.

Bluegrass Area Development District
KMHI was fortunate to be the keynote speaker at Bluegrass Area Development District meeting at the beginning of August. This council consists planning and zoning officials from 17 counties in Central Kentucky. The presentation and dialog focused on misconceptions of manufactured housing and how the industry has evolved into something that they can be proud to welcome into their communities. A hard hitting topic was how manufactured housing can be a great solution to the affordable housing crisis not only in Kentucky but nationwide. In attendance, by invitation of KMHI, was H.E. Corder II, Executive Director of the Kentucky Real Estate Authority, a part of the Public Protection Cabinet. Director Corder spoke on the state's support of manufactured housing and the need to have support from local municipalities. Followup conversations are scheduled throughout the near future.

Career and Technical Education Summer Conference
As part of KMHI's Task Force for Industry Growth, KMHI presented to over 50 school counselors from across the Commonwealth about the importance that they play in encouraging their students to learn a trade rather than or in addition to a college degree. Through highlighting industry benefits and the dire need for skilled labor, the counselors were very receptive to the idea. Many have reached out to see where they can plug their students in. Did you know KMHI has a resource to post a job opening in your company on our website and feed it to school counselors? Ask us how here.

Solid Waste Coordinators of Kentucky (SWACK)
As older homes continue to decay, in many cases, they have become unsightly for many communities thus leaving a black eye on the industry that has evolved into what it is today. SWACK asked KMHI to present on the options for the disposal of these unsightly, abandoned, and dilapidated homes, clearing the way for newer and greater!

KMHI Goes on the Offensive - County By County
As you hear of counties looking at updating their zoning ordinances, make sure to let KMHI know just as was done down in Simpson County recently. KMHI reviewed their ordinances and made suggestions of how to achieve the overall goal of the community and still increase availability of manufactured homes within their county. Simpson County, like many others, developed ordinances based off of outdated perceptions and understanding of our industry. It is the goal of KMHI to correct that perception state wide and remind these counties that MH is a process - not a product. Pushing out MH is truly causing them more harm than good. Because of the meeting with Simpson County Officials, KMHI has developed a great working relationship that will allow us to be a part of the changes as opposed to read about them after the fact. Know of a county that is looking to update? Contact us here.
Additional Info
Media Contact : Logan Hanes